Radiator Leak Repair / Radiator Installation
At Advanced Professional Plumbing & Heating Services – our registered plumbers can help you with all issues you have. If you ever experience any radiator problem you know who to call!
A leaking radiator should be remedied as soon as possible. If it doesn't get repaired there could be extensive damage to carpets or floorboards.
Before replacing a valve, our radiator specialist normally check to see whether any leaking is occurring from a neighbouring source. They will then dray the area surrounding the valve carefully. Then press tissue paper around various points to ascertain the source of the leak. This is essential as water can run round and drip, making another area appear as the cause of the problem
Our radiator experts have been train to check how your radiator problems happened and how we can deal with the problems so that we can prevent these problems from happening again.
There are many reason that cause radiator leaking problems :
Leaking radiator from the spindle - until the plumbers get to you – you can try it yourself by trying to tighten the nut or undo the nut and wind PTFE tape down into the spindle.
Leaking radiator at the coupling to the pipe – if you want to try fixing this yourself temporarily until our approved plumber get to your property. You can do it by tightening the nut gently if that doesn't help, then drain the radiator. Then undo the cap nut, take off the fitting and replace the olive. Even though you would like to try it yourself but we always recommended to have this repaired by a professional registered like plumbers from Advanced Professional Plumbing & Heating Services.
Leaking radiator caused by corrosion. If it's the case then a new radiator needs to be installed. In an emergency a temporary repair can be made using a plastic resin filler. To help with any future corrosion problems, power flush is highly recommended to flush out the existing system with cleans water and adds a rust inhibitor to the water. Advanced Professional Plumbing and Heating Services can definitely do power flushing for you and we always use the best chemical in the market to give you peace of mind that you will get value for your money when getting us to power flush your system.
Problem with radiator valve – our recommended plumbers have high skill and experience to repair the valve that is broken. In order to repair this you can drain part or all of the system and unscrew the cap nuts connecting the valve to the water pipe, then we will remove the valve, valve adapter from the radiator by unscrewing it, clean the threads in the end of the radiator and replace with a new one. However, you'd better get this done professionally as if it's not done properly it can give you more problems – with our Advanced Professional Plumbing & Heating Services plumbers – they can show you all the procedures and how to do this properly.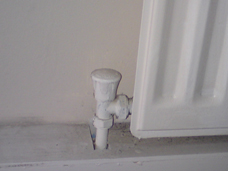 How to Bleed a Radiator
Most of you may try to bleed radiator yourself but do you know that most radiators have a bleed screw at the top of the radiator. Most of the time they are positioned at the ends of the radiator and sometimes they are on the back. Radiator bleed keys are normally made of soft metals such as Brass or alloy.
We can briefly tell you how to bleed radiator. When doing it you need to ensure that the central heating is switched off before bleeding or this can introduce even more Air into the system. It's a good idea NOT to bleed radiators with the central heating pump ON - if you do, there's always a risk that air might be drawn into the system making your problems worse. If you have a header tank ensure that the water supply is not isolated to this tank then Top up the boiler if necessary!
However, note that bleeding a sealed system will reduce the pressure which will need to be adjusted afterwards - this is normally done by turning on the mains cold water feed to the system as mentioned in step 6 below. Confirm before starting the bleeding process that you know how to re-pressurise the system - if in doubt, consult a heating engineer or proper registered plumbers like us – it's best to call gas safe (corgi) registered plumbers like us - Advanced Professional Plumbing & Heating to take care of all this for you.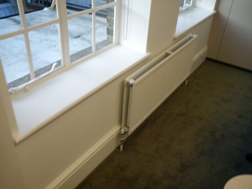 What type of radiators that gives you hassle – you can explain this to our friendly team when calling!
| | | | |
| --- | --- | --- | --- |
| Cast Iron Radiator | Designer Radiator | Electric Radiator | Towel Rail |
| Traditional Radiator | Standard Radiator | Covers | Bench Radiator |
-----------------------------------------------------------------------------------------------------------------------------------------------------
Bank of England, St Mary Axe, Aldgate plumbing & heating specialists, Leadenhall, Lloyd's of London Gas safe corgi plumbers, Fenchurch Street, Tower Hamlets bathroom installation , City of London Air-conditioning service Royal Exchange, Lombard Street Electrical engineer, Monument local plumbing companies, Billingsgate, Cannon Street, London gas safe engineer, City of London emergency gas leak repair, Tower Hill, Tower of London. Emergency reliable London plumbers WC1 ,New Oxford Street find local electricians, Camden reliable house decorator, WC1 Bloomsbury 24/7 plumbing service , whirlpool shower bats installer , WC1 British Museum, London, University College London, WC1 St Pancras, Camden, Westminster 24 hour refrigeration repair, City of London, Camden, Oil boilers repair Islington, City of London professional plumbers, Great Ormond Street Hospital, Gray's Inn heating breakdown, corgi registered High Holborn, Finsbury (west) recommended gas corgi engineers, Lincoln's Inn Fields WC1 Royal Courts of Justice, Find local recommended plumbers Kings Cross, Blocked sink repair Drury Lane WC1 Aldwych, Covent Garden , Emergency bahroom fitters, WC1 Westminster, Important work , Leicester Square gas central heating boilers repair, Charing Cross WC1 Somerset House Gas fire repair , W1 W2 SW1 SW11 SW3 WC2 Western Central London heating service WC1, Recommended electrician London Borough of Camden, WC2 City of Westminster, London Borough of Islington , whirlpool shower bats installer , WC2 New Oxford Street, Bloomsbury gas landlord certificate , British Museum WC2, University College London, St Pancras WC2 builders, Great Ormond Street Hospital WC2 ,Gray's Inn gas heat pump repairs, High Holborn, Emergency Boiler installation Camden, WC2 Westminster local plumber, City of London, Lincoln's Inn Fields, Royal Courts of Justice, Recommended Local gas boiler installers Kings Cross WC2 , Finsbury (west) plumbing and heating contractors in Drury Lane, Aldwych WC2, Covent Garden refrigeration repair and installation, Leicester Square worcester bosch boiler , Charing Cross underfloor heating repair , NW1 Consumer unit repair, NW11, WC2, Plumbers London, emergency plumbing specialists London airport, Hayes, Chislehurst W1 Piccadilly Circus Plumber, W1 Great Portland Street gas engineer , W1 Goodge Street family run heating engineer, Regent Street Warm air unit repair, London city airport heating contractors, Oxford Circus W1, Electrician Oxford Street, Warren Street, Marble Arch 24hr Plumber, Marylebone W1, Mayfair gas landlord safety certificate Tottenham Court Road, Condensing combi boiler in Westminster Plumbers W2, Bayswater, Lancaster Gate Recommended toilet leaking repair, Heathrow airport radiator maintenance, W2 plumber City of Westminster W2 Paddington Plumber in W2 ,Royal Oak bleeding radiators, Parliament Square , North London gas heating engineer plumber, N3 West Finchley, Manor House emergency plumber, N4 Stroud Green commercial domestic gas engineer , N4 Finsbury Park trusted London loft conversions Church End, Refridgerator repair N5 Drayton Park plumber, N5 Highbury, Gledhill boiler breakdown Finchley Central Finchley, Bathroom fitting companies N4 Arsenal, boilermate repair and installer , N6 Highgate Holloway plumbing engineer N7 Caledonian Road, Heating gas safe registered Holloway Road, North London , boiler breakdown, Lower Holloway N7 Islington Electricians, Plumber Hornsey, dishwasher repair Hornsey Lane N8 , Tillers Hornsey Rise, Crouch End Door lock, 24Hrs emergency water leak repair , Hornsey Rise, N8 Crouch End commercial heating plumbing company in London, Haringey ,N9 Edmonton gas safe registered engineer, Lower Edmonton N10, Colney Hatch trusted plumber N10