- Reliable Family Run (Husband & Wife Formed)
- Twice Recommended by "Time Out" in 2006
- Finalist of the "Training & Development" Barking & Dagenham Business Awards 2008
- Finalist of the "Best New Business" and "Entrepreneur of the year" Kingston Business Awards 2010
- Finalist of the "Entrepreneur of the year" Kingston Business Awards 2011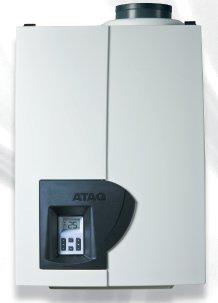 Advanced Professional Plumbing & Heating Services London - we're husband and wife formed. 24 hr emergency London plumbers & multi trades service.
Get to know "Atage Commercial Boiler"
The new high efficiency condensing combination boiler from ATAG Heating meets carbon reduction targets for new build housing without the need for an additional gas saver unit.
All ATAG boilers have the highest efficiencies in Europe with the lowest emmissions achieving 3 BREEAM star Points.
All models have multiple flue options including flexible flue liners.Over pressure flue sytems allow for cascaded boilers to operate on smaller diameter runs over a greater distances.
ATAG system boilers have a built in energy management system for weather dependant controls and optimum start by installing an outside sensor.
Q series boilers have a built in fully modulating pump for maximum temperature controls.
ATAG Q Boilers can be cascaded up to 8 modules, MAD Q controllers can be fitted to cascade up to eight boilers and control up to 3 zones.

Hydraulic header systems are available for speedy neat installations.
SW11 Recommended 24Hour Atag Commercial Boiler Installation Billingsgate,Soho Atag Boiler Engineers W5,W6 Hammersmtih, E13 Plaistow Bathroom installation Plaistow, E13 West Ham Bathroom installation West Ham , E13 Upton Park Bathroom installation Upton park E14 Poplar Bathroom installation Poplar, E14 Isle of Dogs Bathroom installation Isle of Dogs, E14 Limehouse Bathroom installation Limehouse, E14 Canary Wharf Bathroom installation Canary Wharf, E15 Stratford Bathroom installation Stratford, E15 West Ham Bathroom installation West Ham, E16 Victoria Dock Bathroom installation Commercial Heating breakdown Highgate, boiler breakdown, recommended boiler installation, Emergency plumber docklands or other areas, plumber, plumber mechanism, 24 Hours Commercial Heating Ideal Concord Boiler Installers in London Monument EC2, I Billingsgate I Royal Exchange I Lombard Street, Cornwall Gardens SW7 Baxi Boiler Repair, Biasi Boiler Repair, Combi Boiler Repair, Commercial Boiler Repairs, Electric Boiler Repair, Ethos Boiler Repair, Commercial Atag Boiler Installation SW11 Ferroli Boiler Repair, Gas Boiler Repair Knightsbridge SW11 Gledhill Boiler Repair, Glen Dimplex Boiler Repair, Glow Worm Boiler Repair SW11 Halstead Boiler Repair, Heating Repairs, Heatline Boiler Repair, Ideal Boiler Repair