- Reliable Family Run (Husband & Wife Formed)
- Twice Recommended by "Time Out" in 2006
- Finalist of the "Training & Development" Barking & Dagenham Business Awards 2008
- Finalist of the "Best New Business" and "Entrepreneur of the year" Kingston Business Awards 2010
- Finalist of the "Entrepreneur of the year" Kingston Business Awards 2011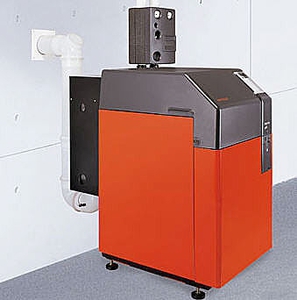 Advanced Professional Plumbing & Heating Services London offer 24 hours service and all types of boiler repair and installation issues. Our engineers have experiences and qualifications to work on oil boiler so if you are one of the people who have oil boilers located in your property and it your oil boiler gives you trouble. You can just give us a call at your convenient as we operate 24 hours a day throughout all festive and holiday periods.
Get to know Oil Boiler more

Boilers consist of two parts--a combustion chamber and the water tank with the combustion chamber located beneath the water tank. They also have several water circulation pipes, a water pump, and a pipe to supply oil to the burners in the combustion chamber.
How Oil Boiler Works

Oil enters the combustion chamber and feeds the burners, which in turn heat the water in the water tank. The water pump forces hot water out of the tank and into the supply pipes for the radiators located throughout the building. The exiting water pushes water that is already in the radiators and has cooled down back into the boiler where it is heated again and recirculated. This heating process is controlled by thermostats that monitor the ambient temperature in the various parts of the building as well as the water temperature in the boiler.
Boilers operate when fuel is supplied to the burner. Natural gas is supplied through the gas pipe, while the wood pellet is blown to the burner. Fuel is then mixed with air and ignited. Secondly the fire from the burner and its combustion gases escape into the boiler. The transfer of heat to the circulating water, through the heat exchanger within the boiler follows. Heated water then produces warm air around the house via the radiators, under floor heater and hot water tubes. Run your boiler for short periods of time. Avoid turning it on and off as much as possible as it could affect its system. Leave it to cool for at least a one hour before switching it on again.
--------------------------------------------------------
LPG boiler installer, lpg combi boiler, lpg boilers, lpg condensing boiler, lpg boiler servicing, lpg boiler installation, lpg gas boiler, lpg combi boilers, lpg combination boiler, lpg condensing boilers, 24 Hrs emergency plumbers, commercial & domestic heating plumbing engineer, LPG boiler, cooker service in EC1, EC3, EC4, EC2, WC1, WC2 Time out recommended Plumber in EC1 Clerkenwell, EC1 Farringdon,Aldersgate, EC1 Angel , emergency 24 hrs recommended oile boiler specialist EC1 Aldgate ,Finsbury , EC1 Barbican trusted plumber in Goswell , St. Luke's LPG boiler Emergency Heating service commercial and domestic EC2 Bank , Bishopsgate WC2 Broad Street, Plumbing services Broadgate EC2 ,Cheapside street , Liverpool Street central heating Soho WC2 , Covent Garden ,Clerkenwell gas engineer Angel , Barbican engineer Fenchurch , awarded Plumber gas engineer in Covent Garden, Bloomsbury heating engineer,Awarded Finsbury WC1 Emergency Oil Boiler Repair Engineers EC1,EC2 Holborn Oil Heating Engineers EC3,EC4,WC1,WC2