"Reliable Family Run (Husband & Wife Formed)"
"Twice recommended by"Time Out" London in 2006"
"Finalist of the Training and Development Barking & Dagenham Business Awards 2008"
"Finalist of the "Best New Business" and " Entrepreneur of the year" Kingston Business Awards 2010"
"Finalist of the "Entrepreur of the year" Kingston Business Awards 2011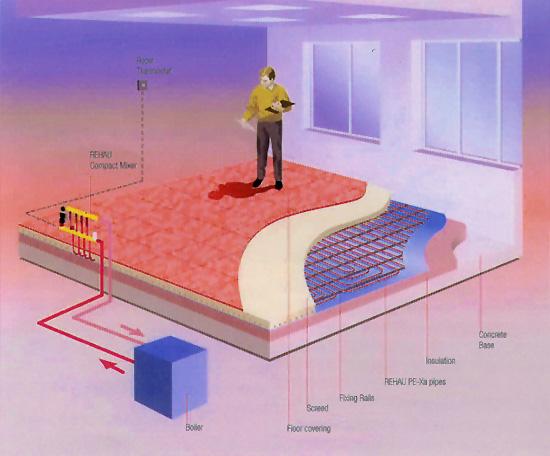 Benefits of Having Underfloor Heating System at Home
• HYGIENE - Underfloor Heating helps to reduce the number of dust mites in your home because moisture content levels are too low. This can aid sufferers of asthma and other breathing complications.
• COST EFFECTIVENESS - Underfloor heating can result in a 15-40% energy saving over traditional heating methods.

• EASE OF CONTROL - The smallest temperature difference between the floor and the air above means the system is easy to regulate. With individual room control being a common feature of underfloor heating systems, you can individually adjust temperature settings in each room of the house.
• COMFORT - Underfloor heating heats from the floor upwards allowing an even distribution of heat and maximising comfort levels. Radiators only offer localised heat and normally need to run at a much higher temperature. Heat from radiators convects directly to ceiling level leaving the temperature at floor level much lower. A concentration of heat at head height can cause discomfort.
• SPACE AND AESTHETICS - By using underfloor heating you can gain more useable space when compared to traditional heating methods. With underfloor heating, wet floors dry quicker and the peeling of wallpaper and discolouration of paint is prevented
.
• SILENCE - Compared with radiators, there is no noise with underfloor heating.

-----------------------------------------------------------
Get to know How Underfloor heating system works
These days, most underfloor heating systems are either warm water (wet) systems or electric (dry) systems.
For wet systems, pipes are buried in screed, or run underneath the floor surface. Wet underfloor heating systems operate by heat transferring from the water passing through the pipe directly into the floor. Because the whole area of the floor is warm, it heats the room more evenly.
Unlike radiators, underfloor heating systems do not need to run at high temperatures. Heat imparted to the floor is released across a large area rather than the relatively small and focussed area of a radiator. As such, UFH systems do not need to operate at such high temperatures.
Typically, the temperature of the water in an underfloor heating system pipe is 45 – 65oC (compare this to approximately 80oC flow and surface temperature of a radiator system) warming the floor to a temperature of 25 – 28oC, which is comfortable to walk on.
For Dry Systems, the principle is the same. The difference is that instead of imparting heat from water passing through a pipe, you use an electric heating element as the heat source.
Underfloor Heating Manufacturers that we deal with :
http://www.warmup.co.uk WARM UP underfloor heating
http://www.heatmat.co.uk HEAT MAT underfloor heating
http://www.beama.org.uk/en/energy/underfloor-heating/
http://www.devi.co.uk/ DEVIREG undefloor heating
http://www.uponor.co.uk/ UPONOR underfloor heating
www.thermo-floor.co.uk - THERMO FLOOR underfloor heating
http://www.ebeco.com/en/index.php - EBECO underfloor heating
www.invisibleheating.co.uk - Invisible Heating Systems
http://www.florad.co.uk/ - FLORAD underfloor heating
www.floorheatingsystems.com
www.enerfoil.com - ENERFOIL underfloor heating
www.eco-hometec.co.uk - ECO HOME underfloor heating
www.allbriteuk.co.uk - ALLBRITE Underfloor heating
http://www.thermogroupuk.com/ - THERMO
http://www.nu-heat.co.uk - Nu Heat Underfloor Heating
http://www.speedfitufh.co.uk - Speedfit underfloor heating
John Guest Underfloor Heaitng
---------------------------------------------------------------------------------------

Awarded Notting Hill London Central Heating Company in London,Wet Underfloor Heating London Electric Underfloor Heating Camden,Pimlico W1,W2,W11,SW1,SW2,SW3,N1,N7,NW1,NW8,SW19 24Hour Underfloor Heating Company in London Awarded Pimlico 24HR Central Heating Company in London Camden,Notting Hill Wet Underfloor Heating London Electric Underfloor Heating central underfloor heating company in London w1 w2 w11 notting hill N1 Underfloor heating repair, underfloor heating specialist, underfloor heating repair, wet underfloor heating, underfloor heating installer, underfloor heating companies, underfloor heating specialists, underfloor heating solutions, underfloor heating warm water, underfloor heating system, underfloor heating problems, hot water underfloor heating, underfloor heating pipe, electric underfloor heating systems, underfloor heating thermostat, under floor heating systems, underfloor heating manifold, underfloor water heating systems Enfield EN3 Ponders End central heating installation Ponders End, N9 Lower Edmonton central heating installation LowerEdmonton N9 Edmonton central heating installation Edmonton, N13 Palmers Green central heating installation Palmers Green, N16 Stoke Newington central heating installation Stoke Newington N16 Stamford Hill central heating installation Stamford Hill, N16 Shacklewell central heating installation Shacklewell, N16 Dalston central heating installation Dalston,

Plumbers Holloway, Plumber in Holloway, Plumber Holloway, Plumbers in SW5, Plumbers SW5, Plumber in SW5, Plumber SW5, Plumbers in Earls Court, Plumbers Earls Court, Plumber in Earls Court, Plumber Earls Court, Plumbers in N8, Plumbers N8, Plumber in N8, Plumber N8, Plumbers in Hornsey, Plumbers Hornsey, Plumber in Hornsey, Plumber Hornsey, Plumbers in Crouch End, Plumbers Crouch End, Plumber in Crouch End, Plumber Crouch End, Plumbers in SW6, Plumbers SW6, Plumber in SW6, Plumber SW6, Plumbers in Fulham, Plumbers Fulham, Plumber in Fulham, Plumber Fulham, Plumbers in Parsons Green, Plumbers Parsons Green, Plumber in Parson

;

s Green, Plumber Parsons Green,Wet Underfloor Heating Engineers