Advanced Professional Plumbing & Heating Services London - we're husband and wife formed. 24 hr emergency London plumbers.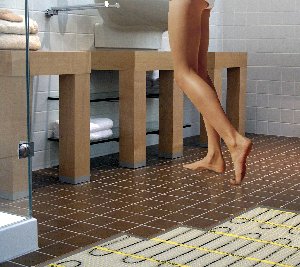 - Reliable Family Run (Husband & Wife Formed)
- Twice Recommended by "Time Out" in 2006
- Finalist of the "Training & Development" Barking & Dagenham Business Awards 2008
- Finalist of the "Best New Business" and "Entrepreneur of the year" Kingston Business Awards 2010

- Finalist of the "Entrepreneur of the year" Kingston Business Awards 2011
-----------------------------------------------------------
Underfloor Heating Installation - Reliable Family Run 24 Hours Underfloor Heating Installers in London
The pipework installed as part of wet underfloor heating systems nowadays, is typically high quality – PEX (the generic name for polybutylene, or polyethylene) and Alupex™ (a five-layer composite of PEX and aluminium) are popular materials and are continuous, so there is no danger of leaking from joints.
Wet underfloor heating systems are, however, best suited for inclusion in newly built homes because of the disruption and expense involved in taking up the floor(s) of an existing property. Repair, or maintenance, of wet underfloor heating systems, if it is required, may prove troublesome and costly, so reliable materials are a necessity. A wet system also requires space for timer controls, individual valves for each room, etc., but these can often be positioned together in a single location, such as a cupboard.
Electrical underfloor heating is more appropriate for renovation projects in existing properties, as heating cables, or mats, are laid on top of the existing sub-floor, or insulation board, such that the height of the floor need only be raised by a few millimetres, at most.
Electric underfloor heating is easy to install and inexpensive, especially if you wish to heat a single room, such as bathroom, for short periods. You can, of course purchase electrical floor heating online, and fit it as a DIY project, but you should secure the services of a qualified electrician to connect the cables, or mats, to the mains electricity supply
-----------------------------------------------------------------------------
Let's get your underfloor heating looked after by specialist from Advanced Professional Plumbing and Heating Services – As we are the "A Team"
24 Hour Underfloor Heating Installer - Underfloor Heating Repair
Advanced Professional Plumbing and Heating Services is underfloor heating specialist company and installers who can assist you 24 hours. We have the knowledge and experience to all underfloor heating solutions you may have whatever the type is for example the underfloor heating warm water.
Our underfloor heating experts are specialised in all makes of electric underfloor heating system from the UK makes to the foreigne ones so it doesn't matter how serious the problems are – we can help you. The experts will do proper diagnostic to find out what the problems are and find solutions as some time they will need to source the part like underfloor heating thermostat, pipe or might have problem with the underfloor heating pipes, underfloor heating pumps.
Unless you have some appropriate knowledge and equipment yourself to try deal with the problem but there is a limit to the repairs that can be undertaken safely. However, there are a few simple things that can be checked before calling a specialist underfloor heating repairer.
As with all heating systems it is advisable to run the system, for half an hour or so, each month during the summer. This will reduce the risk of circulating pumps and valves sticking.
Advanced Plumbing and Heating Services is a family run underfloor heating specialist that you can trust.
------------------------------------------------------------------------------
Advanced Professional Plumbing & Heating Services Underfloor Heating Specialist can deal with all these underfloor heating makes
NU HEAT underfloor heating
WARM UP underfloor heating
HEAT MAT underfloor heating
BEAMA underfloor heating
DEVIREG undefloor heating
UPONOR underfloor heating
THERMO FLOOR underfloor heating
EBECO underfloor heating
FLORAD underfloor heating
FLOOR HEATING underfloor heating system
ENERFOIL underfloor heating
ECO HOME underfloor heating
ALLBRITE Underfloor heating
TACONOVA underfloor heating
------------------------------------------------------------------------------------------------
London Chalk FarmNorth Underfloor Heating Installer Hampstead NW6,NW5 (Family Run) Emergency Wet,Electric Underfloor Heating Repair,Installation,NW1 Euston London NW1, NW2, NW3, NW4, NW5, NW6, NW7, NW8, NW9, NW10, NW11 Underfloor Heating Installers Underfloor heating repair, John Guest underfloor heating, Speedfit underfloor heating, Commercial Interlock System, Gas Bratt Pan, Gas Tandoori, Gas Japati making machine, underfloor heating specialist, underfloor heating repair, wet underfloor heating, underfloor heating installer, underfloor heating companies, underfloor heating specialists, underfloor heating solutionsEast Central & West Central London emergency plumbers EC1, EC2, EC3, EC4. City of London local emergency plumbers WC1, WC2 West end London W1,W2, W3, W4, W5, W6, W7, W8, W9, W10, W11, W12, W13, W14 Abbey-Road-NW7-St.John's Wood-NW9-The-Hyde-NW9-West-Hendon-Colindale-NW9-Edgware-Road-NW9-Kingsbury-Kilburn-Abbey-Road-NW7-St.John's-Wood-The-Hyde-NW9-West-Hendon-NW9-Colindale-Edgware-Road-NW9-Kingsbury-NW10-Harlesden-underfloor heating system, underfloor heating problems, hot water underfloor heating, underfloor heating pipe, electric underfloor heating systems, underfloor heating thermostat, under floor heating systems, underfloor heating manifold, underfloor water heating systems, gas central heating systems, electric central heating boilers, electric central heating systems, water under floor heating, underfloor heating systems, underfloor heating specialists, underfloor heating pipes NW10-Kensal-Green-Kensal Rise-NW10-Lower-Place-NW10-Old Oak-Common-NW10-Park-Royal-NW10-Stonebridge-Stonebridge-Park-NW10-Willesden-Junction-Willesden-NW11-Golders-Hill-Park-NW11-Golders-Green-NW11-Friern-Barnet-NW11-Hampstead-Garden-Suburb-NW11-Regents-Park-St.Pancras-Primrose-Swiss Cottage