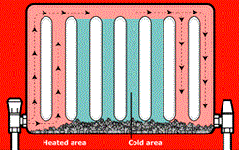 Advanced Professional Plumbing & Heating Services London - we're husband and wife formed. 24 hr emergency London plumbers
- Reliable Family Run (Husband & Wife Formed)
- Twice Recommended by "Time Out" in 2006
- Finalist of the "Training & Development" Barking & Dagenham Business Awards 2008
- Finalist of the "Best New Business" and "Entrepreneur of the year" Kingston Business Awards 2010
- Finalist of the "Entrepreneur of the year" Kingston Business Awards 2011
----------------------------------------------------------
What does power flushing mean?
Power Flushing is the process of removing or 'flushing out' accumulated 'sludge' deposits from central heating systems. A Power Flush can make a heating system more efficient and help save you money by avoiding the need for expensive repairs.
Unfortunately over the lifespan of a central heating system, black iron oxide more often referred to as 'sludge' will accumulate in the system. This can have potentially disastrous consequences on the efficiency of the heating system if remedial action is not taken in time. Very high fuel bills and the replacement of parts of the system are inevitable if internal corrosion is not kept at bay by a professional Power Flush.
----------------------------------------------------------
How is power flushing carried out?

The Power Flush process is quite simple and is usually carried out in a day on residential properties. On larger commercial premises a Power Flush may take longer.
All we have to do is connect our Power Flush units to your pump or radiators. We then use special chemicals to break up the sludge in your heating system. The Power Flush machine will then cleanse the system by flushing it through with clean water. This will remove the black sludge and make your central heating system work much more effciently.
----------------------------------------------------------

Powerflush cleaner is added to the system water and starts to loosen the rust. The heating is turned on and radiator surfaces checked for cold spots. By flushing water through individual radiators and vibrating cold spots the sludge is rapidly loosened. The sludge flows from radiators and is collected at our magnet filter.

All radiators and pipe work are power flushed until water samples are clean and pH neutral.
A corrosion inhibitor is added to the clean water, radiators are balanced as required and finally we issue you a Powerflush certificate.

Our professional and friendly engineers will thoroughly powerflush your heating system making:

• Your home warmer
• Your fuel bills lower - saving you money
• Your heating system last longer

----------------------------------------------------------
London British Museum Power Flushing Services WC2,WC2 Plumbers Central Heating Systems Sludge Blocked WC1 London Borough of Camden Power Flush Engineers WC2 City of Westminster