"Reliable Family Run (Husband & Wife Formed)"
"Twice recommended by"Time Out" London in 2006"
"Finalist of the Training and Development Barking & Dagenham Business Awards 2008"
"Finalist of the "Best New Business" and Entrepreneur of the year" Kingston Business Awards 2010"
"Finalist of the Entrepreneur of the year" Kingston Business Awards 2011"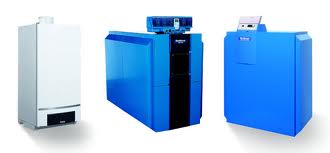 Commercial Boiler Repairs London, Emergency Commercial Hamworthy Boiler Breakdown Specialist in London,Enfield , 24 Hours Commercial Heating Ideal Concord Boiler Installers in London, Emergency Commercial Buderus Boiler Repair Engineers in London
The Buderus Commercial Boilers (Buderus series) includes a robust range of Ecostream boilers constructed from special Buderus GL 180 M grey cast iron which makes them extremely resistant to corrosion and high temperatures.


Each boiler in the range benefits from Thermostream technology which helps to protect against condensation as well as increase the system design options available to the heating engineer.


The GE range provides efficiency levels of up to 95% (NVC).


All boilers in the GE range are designed according to the three pass principle with a full-burn water cooled combustion chamber.


Optimally configured heating surfaces and high grade thermal insulation ensure efficient heat transfer and provide ideal conditions for low flue gas emissions.
Features and benefits of having Bederus commercial heating boilers
Economical with standard utilisation rates of up to 96% (NCV)
Three pass construction for lower emissions
Compact boiler dimensions
Easy maintenance and cleaning
Buderus thermostream technology provides a simple system which is very reliable in low temperature operation and does not require a minimum return temperature to be maintained
Awarded Enfield EN1,EN2 Emergency Commercial Ideal Concord Boiler Installaers EN3,N22,N21 Alexandra Palace Ideal Concord Repairs EN3,EN4,EN5,EN6 Commercial Ideal Concord Breakdown EN7,EN8,EN9,EN10,EN11 Ideal Concord Commercial Boiler Breakdown , Emergency Commercial Ideal Concord Boiler Installaers Ideal Concord Repairs,Commercial Boiler Repairs London, Emergency Commercial Hamworthy Boiler Breakdown Specialist, 24 Hours Commercial Heating Ideal Concord Boiler Installers, Emergency Commercial Buderus Boiler Repair Engineers in London,Hadley Wood EN4 Cockfosters Commercial Ideal Concord Breakdown East Barnet EN4 New Barnet family run gas safe & corgi registered engineer EN4 London Borough of Barnet EN5 High Barnet plumbing and heating services EN5 Arkley EN5 London Borough of Barnet plumbing & heating engineer EN6 POTTERS BAR EN6 Potters Bar EN6 South Mimms, Cuffley EN6Northaw Hertsmere EN6 Welwyn Hatfield Warm air unit repair and maintenance Broxbourne Cheshunt WALTHAM CROSS EN7 Commercial Heating Repairs, buderus Commercial Boiler Breakdown, buderus Commercial Boiler Installation, Commercial Ideal Concord Boiler Installers EN8 Clima Roca Roof Top Air-conditioning Specialist WALTHAM CROSS Waltham Cross EN8 Broxbourne EN9 WALTHAM ABBEY WalthamAbbey EN9 Epping Forest EN9 Broxbourne EN10 Bathroom suite installer Broxbourne EN11 HODDESDON, Hoddesdon, EN11 Broxbourne commercial heating engineer , commercial heating repair , commercial heating contractors,LPG cooker boiler service engineer in N1 N2 N3 N4 N5 N6 N7 N8 N9 Commercial Ideal Concord Breakdown N10 N11 N12 N13 N14 N15 N16 N17 N18 N19 Clima Roca Roof Top Air-conditioning Specialist N20 N21 N22 Enfield : Enfield EN1 EN2 EN3 Commercial Ideal Concord Breakdown EN4 EN5 EN6 EN7 EN8 EN9 emergency 24 Hrsplumbers, commercial & domestic heating plumbing engineer in Enfield commercial & domestic plumber Waltham Abbey Underfloor heating service engineer Alexandra Palace Enfield emergency plumber Enfield Lock ENFIELD EN1 Bush Hill Park Awarded emergency plumber EN1 East of Bulls Cross, Emergency Commercial Ideal Concord Boiler Installaers, Ideal Concord Repairs,Commercial Boiler Repairs London, Emergency Commercial Hamworthy Boiler Breakdown Specialist, 24 Hours Commercial Heating Ideal Concord Boiler Installers, Emergency Commercial Buderus Boiler Repair Engineers in London E18 South Woodford central heating repairs South Woodford, EN1 Bush Hill Park central heating repairs Bush Hill Park, EN1 Bulls Cross central heating repairs Bulls Cross, EN1 Enfield Town central heating repairs Enfield Town, EN2 Botany Bay central heating repairs Botany Bay, EN2 Clay Hill central heating repairs Clay Hill , EN2 Crews Hill central heating repairs Crews Hill, EN2 Bulls Cross central heating repairs Bulls Cross, EN2 Enfield Town central heating repairs Enfield Town, EN3 Enfield central heating repairs Enfield EN3 Ponders End central heating repairs Ponders End, EN2 Enfield Town, Forty Hill EN3 Enfield Highway EN3 Enfield Lock EN3 Enfield Wash & Ponders End London Borough of Enfield EN4 BARNET Commercial Roof Top Air-Conditioning Unit Repairs, Commercial Clima Roof Top Air-conditioning engineers, Gas Mechanic Services, Commercial Heating Mechanic Repairs , Hadley Wood EN4 Cockfosters, East Barnet EN4 New Barnet, EN4 London Borough of Barnet EN5 High Barnet plumbing and heating services EN5 Arkley EN5 London Borough of Barnet plumbing & heating engineer EN6 POTTERS BAR EN6 Potters Bar EN6 South Mimms, Cuffley EN6Northaw Hertsmere EN6 Welwyn Hatfield Warm air unit repair and maintenance Broxbourne Clima Roca Roof Top Air-conditioning Specialist Cheshunt WALTHAM CROSS EN7 EN8 WALTHAM CROSS Waltham Cross EN8 Broxbourne EN9 WALTHAM ABBEY WalthamAbbey EN9 Epping Forest EN9 Broxbourne EN10 Bathroom suite installer Broxbourne EN11 HODDESDON, Hoddesdon, EN11 Broxbourne commercial heating engineer , commercial heating repair , commercial heating contractors ,Heating and ventilation contractors association , air conditioning engineer ,commercial heating systems , commercial heating jobs , commercial heating and air heating specialists , commercial heating installation , gas filter, heat repair