Awards
Awarded Plumbers – Family Run Gas Installers in London
Advanced Professional Plumbing & Heating Services were a finalist for the Business Awards in 2008 and yet again in 2010. This proves to you that we have worked very hard to get where we are today, and this is a guarantee that you will always be looked after by all of our office staff and professional tradesmen, who have been assigned to do the work required by YOU – all over London and the surrounding areas.
Business Awards in 2008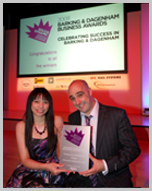 Finalist of Training and Development Business Award 2008 ( Barking and Dagenham)
We guarantee that we will meet your satisfaction, bring out the best in all engineers and office staff we have and that we will keep up to date on new technology to reach the highest levels of the service.
Advanced Professional Plumbing and Heating Services London is proud to say we were short listed for the Barking and Dagenham Business Award 2008 in the Category "Training and Development" see details below:
Business Awards in 2010
Advanced Professional Plumbing & Heating Services was finalist again under 2 categories of the "Kingston Business Award 2010". It was our great honour to be recognised once again for being a reliable family run business, who has grown rapidly over the years and as we have the Director who focuses on doing everything that will comfort all the customers and bringing all services to higher level so that you don't need to try so hard looking for anyone else because we can just provide you with multi trade services from plumbing, heating (gas), electrical, air-conditioning & ventilation, glazing, building & carpentry, tilling, locksmiths, solar panel to LPG plumbing and heating. Using the right approach we always look after existing customers and new customers the best we can, by giving personal touches so that you always feel "special".
The 2 categories we were finalist of are:

1. Entrepreneur of the Year 2010 (Kingston Business Awards 2010)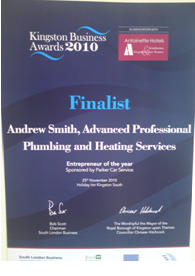 Entrepreneur of the Year Finalists:
Andrew Smith, Advanced Professional Plumbing and Heating Services

2. Best New Business 2010 (Kingston Business Awards 2010)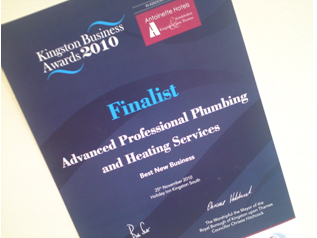 Best New Business Finalists:
Advanced Professional Plumbing and Heating Services

In the Press

Recommended by "Time Out" London magazine Training and Development
Business Award 2008 Finalist, Barking and Dagenham Borough
Kingston Business Awards 2010 , South London Business Magazine

On TV

We have appeared twice on "Working Lunch" BBC2 in 2008 and 2009
As we are the "A Team"
"Be Switched On"
"Switch On To Advanced Plumbing & Heating Services London"