"Emergency 24 Hour Reliable Family Run (Husband & Wife Formed)"
"Twice recommended by"Time Out" London in 2006"
"Finalist of the Training and Development Barking & Dagenham Business Awards 2008"
"Finalist of the "Best New Business" and " Entrepreneur of the year" Kingston Business Awards 2010"
"Finalist of " Entrepreneur of the year" Kingston Business Awards 2011"
Get to know "Gledhills BoilerMate"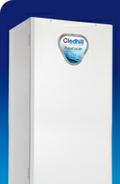 BoilerMates are thermal stores, in other words a tank full of water heated by an ordinary central heating boiler. The water never changes. It is used purely to store heat energy from the boiler. The stored hot water is pumped around the radiators top heat the house, and is used to heat domestic tap water before it arrives at the hot taps. This allows hot water to taps and showers at full mains pressure for high performance showering and faster bath filling.
The boilermate is very similar to the SysteMate and the two are easily confused. The difference is that the Boilermate pumps the thermal store water around the radiators directly, meaning radiators cannot be installed at a higher level than the BoilerMate cistern. The SysteMate separates the central heating water from the thermal store water using a copper heating coil inside to transfer heat from the boiler primary into the thermal store water, allowing use of a sealed heating system and location of the SysteMate becomes free

We know that it is a huge problem finding right and honest trade's people including good plumber's and gas engineer's in London and even in the surrounding areas. Especially, during the "Current climate"- you don't want to spend money on something if you don't know if it will be worthwhile. Don't panic! A reliable family run company like us are here to change this. Advanced Professional Plumbing and Heating Services London is offering the benefits of the knowledge we have to give "YOU" the customer the right advice – this will result in you saving hundreds or even thousands of pounds in some cases. This is for your benefit. Try us - plumbing and heating services in family run style!
------------------------------------------------------------------
GLEDHILL BOILERMATE, GLEDHILL BOILERMATE, GLEDHILL REPAIRS,central heating boiler, water boiler, gas boiler, boiler systems, electric boiler, boiler system, oil fired boiler, commercial boilers, oil boilers, cheap boiler installation cost, boiler water heater, electric central heating boiler, gas central heating boilers, industrial boiler repair, Gas tightness test, pressure test equipment, water leak detection equipment, gas pressure test, air pressure test, gas leak test