Advanced Professional Plumbing & Heating Services London - we're husband and wife formed. 24 hr emergency London plumbers and multi trades service
- Reliable Family Run (Husband & Wife Formed)
- Twice Recommended by "Time Out" in 2006
- Finalist of the "Training & Development" Barking & Dagenham Business Awards 2008
- Finalist of the "Best New Business" "Entrepreneur of the year" Kingston Business Awards 2010
- Finalist of the "Entrepreneur of the year" Kingston Business Awards 2011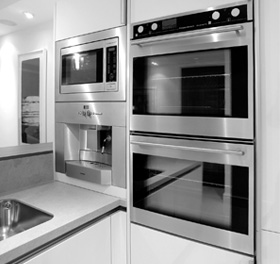 Commercial / Domestic Catering Appliances (Cooker,Oven,Grill) installation and maintenance

Our qualified commercial gas experts can help you find solution of the problem you have with Commercial Catering Appliances. We price ourselves on offering a personal touch service whatever simple things like commercial oven, cooker installation to complex problems such as emergency breakdown during rush hours.

Whether it be – jobs in a small kitchen requiring a counter top griddle to be replaced, to a large banqueting facility who need a complete solution for cooking/chilling and conserving, we have the right type of Commercial Catering Equipment to suit your needs. We specialise in repairing, servicing, installing of commercial appliances in any restaurant, from pizza ovens to pasta cookers etc.

------------------------------------------------------------
Gas Repair Engineers
At Advanced Professional Plumbing & Heating Services, we have gas commercial engineers who can deal with all the large gas, heating appliances such commercial boiler, commercial cooker in the restaurant, commercial grill, commercial oven, etc. All of our domestic and commercial gas / heating / boiler engineers have been recommended by "Time Out" London Magazine and recommended by word of mouths from our existing customers.
They can deal with commercial boilers like all gas combi boilers, oil condensing boilers, gas condensing boilers, vaillant condensing boilers REMEHA Commercial & Domestic boilers , PEERLESS Commercial & Residential , WEIL MCLAIN GAS OIL Commercial & Residential boilers, COLUMBIA Commercial & Industrial Boilers , BUDERUS Commercial & Industrial and some more other makes. They can also repair and maintain domestic boilers for you too.

For your peach of mind, we send the engineers to the up-to-date training courses every so often to upgrade their knowledge on new things so that we can catch up with all the new technologies and changes and this is for YOU, the customer;s benefits. We are confident that this is what makes us different to other engineers from other companies as we know once they all have been through the training they will become more confident and they can deal with difficult situations of complicated jobs. They have been doing long enough to know how to how to install a radiator and how to repair, maintenance, and install central heating, gas condensing boilers, baxi heating, vaillant combi boilers. When we do the service on gas boilers we service them and checked properly

---------------------------------------------------------
Awarded 24HR SW7 Cooker Repairs Earls Court SW6 Oven Installation West Olympia W12,SW5,SW6,SW7,SW8 Chrisiwick,
24Hour Cooker Installation Southwest London
Earls Court SW6 cooker oven installation West Olympia W12, SW5 Chiswick,

Awarded 24HR SW7 Cooker Repairs Earls Court SW6 Oven Installation West Olympia W12,SW5,SW6,SW7,SW8 Chrisiwick,24Hour Cooker Installation Southwest London

Earls Court SW6 cooker oven installation West Olympia W12, SW5 Chiswick, back boiler repair,industrial boiler repair, back boiler repair, emergency boiler repair, annual boiler service, commercial boilers, catering water boiler, boiler fitting, Bromley, Croydon, Kent, Bromley, Kent BR1, Bromley BR1, Bickley, Downham, gas engineer BR2 Keston, BR2 Hayes boiler repair services BR2, Bromley Common Solar hot water , heating systems installer Elm Walk BR2 Shortlands, Orpington BR6, Farnborough Park Solar heating company, BR3 Beckenham , BR3 Eden Park , BR3 Elmers End West , Wickham BR4 , Orpington BR5, St.Mary Cray , BR5 Petts Wood , BR6 Orpington, BR6 Farnborough Park boiler installer, BR6 Downe , BR6 Pratt's Bottom , Bromley BR6, Chelsfield BR6, Well Hill Elm Walk , BR7 Chislehurst 24 Hrs boiler replacement , Awarded 24HR SW7 Cooker Repairs Earls Court SW6 Oven Installation West Olympia W12,SW5