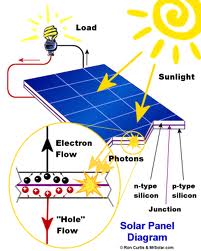 - Reliable Family Run (Husband & Wife Formed)
- Twice Recommended by "Time Out" in 2006
- Finalist of the "Training & Development" Barking & Dagenham Business Awards 2008
- Finalist of "Best New Business" & "Entrepreneur of the year" Kingston Business Awards 2010 - Finalist of "Entrepreneur of the year" Kingston Business Awards 2011
----------------------------------------------------------------------------
Advanced Professional Plumbing & Heating Services London - we're husband and wife formed. 24 hr emergency London plumbers and multi trades service.
Get to know what solar panel is
Solar energy, radiant light and heat from the sun, has been harnessed by humans since ancient times using a range of ever-evolving technologies. Solar radiation, along with secondary solar-powered resources such as wind and wave power, hydroelectricity and biomass, account for most of the available renewable energy on earth. Only a minuscule fraction of the available solar energy is used.

Solar powered electrical generation relies on heat engines and photovoltaics. Solar energy's uses are limited only by human ingenuity. A partial list of solar applications includes space heating and cooling through solar architecture, potable water via distillation and disinfection, daylighting, solar hot water, solar cooking, and high temperature process heat for industrial purposes.To harvest the solar energy, the most common way is to use solar panels.

Solar technologies are broadly characterized as either passive solar or active solar depending on the way they capture, convert and distribute solar energy. Active solar techniques include the use of photovoltaic panels and solar thermal collectors to harness the energy. Passive solar techniques include orienting a building to the Sun, selecting materials with favorable thermal mass or light dispersing properties, and designing spaces that naturally circulate air.
------------------------------------------------------------
If you are looking for a Solar panel system to be installed or wanting to discuss the project with our solar heating specialist London.
Simply give us a call us now on 02071667835 or 07837880027
------------------------------------------------------------

Emergency Solar Panel Installers e2, e3 commercial domestic solar panel hot water e1,e12,e13 chingford Aldgate E1,EC1 Awarded 24Hour Solar Thermal Specialist E2 Stepney Green E3 Bow Solar Panel Hot Water & Heating E4 Chingford,Isle of Dogs E11,E12,E13,E14,EC2,EC3,EC4 Pudding Mill Lane Solar panel systems for commercial building Commercial radiator repair ,Plumbers in Docklands, Plumbers Docklands, Plumber in Docklands, Plumber Docklands, Plumbers in SE16, Home solar panels repairs, SE16, Plumber in SE16, Plumber SE16, Plumbers in Rotherhithe, Plumbers Rotherhithe, Plumber in Rotherhithe, Plumber Rotherhithe, Plumbers in South Bermonsey, Plumbers South Bermonsey, Plumber in South Bermonsey