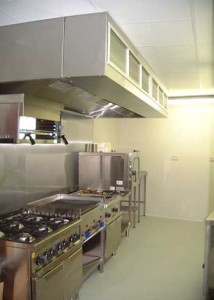 "Reliable Family Run (Husband & Wife Formed)"
"Twice recommended by"Time Out" London in 2006"
"Finalist of the Training and Development Barking & Dagenham Business Awards 2008"
"Finalist of the "Best New Business" and " Entrepreneur of the year" Kingston Business Awards 2010"
"Finalist of the "Entrepreneur of the year" Kingston Business Awards 2011"

----------------------------------------------------------
If regular cleaning is not undertaken then greasy deposits left in the ductwork will attract fibrous build-ups as time progresses, will become baked on, making removal extremely difficult and time consuming. Air flow efficiency can be seriously impaired by deposits, leading to a greater use of energy.

All areas which if not regularly, professionally, cleaned and maintained can quickly become a fire risk. Bacteria developing in grease deposits create a hazard to health. Business efficiency and profitability are also bound to suffer.
Neglect of grease extractors results in the accumulation of fats, oily deposits and fibrous particles in the system, the major cause of the spread of fire in catering establishments. The warm greasy environment is an ideal breeding ground for bacteria and cockroaches.
Failure to ensure regular cleaning of kitchen grease extract systems can invalidate buildings insurance cover. We are aware of many cases where insurers are refusing to pay out on millions of pound worth of claims following fires where the insured has not complied with the warranties on their buildings insurance policies regarding regular cleaning of the grease extract systems. Advanced Professional Catering Services can provide service contracts and any type of ducting services for your peace of mind.
----------------------------------------------------------
Extraction System ensures that kitchen grease extract systems (canopies, filters, ductwork, risers and fans) in kitchens, restaurants, hotels, pubs, canteens, food production areas, hospitals, schools and the like are cleaned as required by your buildings insurance policies, in accordance with Fire Safety Regulations and Workplace (Health, Safety & Welfare) regulations.

Well designed extract system ensures clean air in your working environment which is an essential element for:
- Reducing health risks
· Reducing the risk of fire
· Improving internal working environment
· Preventing Odours
· Improves general hygiene
A few of the Ducting/Canopy services we offer are:
- Commercial and Industrial ventilation systems
- Kitchen Extraction Systems
- Toilet and washroom extraction
- Canopy Service and repair
- Contract maintenance
- Fans and Filters replacement.
- Stainless steel bespoke canopies design and installation.
----------------------------------------------------------

You should consider having the air ducts in your home cleaned if:

There is substantial visible mold growth inside hard surface (e.g., sheet metal) ducts or on other components of your heating and cooling system. There are several important points to understand concerning mold detection in heating and cooling systems:


- Many sections of your heating and cooling system may not be accessible for a visible inspection, so ask the service provider to show you any mold they say exists.

- You should be aware that although a substance may look like mold, a positive determination of whether it is mold or not can be made only by an expert and may require laboratory analysis for final confirmation.
- If you have insulated air ducts and the insulation gets wet or moldy it cannot be effectively cleaned and should be removed and replaced.

- If the conditions causing the mold growth in the first place are not corrected, mold growth will recur.

- Ducts are infested with vermin, e.g. (rodents or insects); or

- Ducts are clogged with excessive amounts of dust and debris and/or particles are actually released into the home from your supply registers.

If any of the conditions identified above exists, it usually suggests one or more underlying causes. Prior to any cleaning, retrofitting, or replacing of your ducts, the cause or causes must be corrected or else the problem will likely recur.

Some research suggests that cleaning heating and cooling system components (e.g., cooling coils, fans and heat exchangers) may improve the efficiency of your system, resulting in a longer operating life, as well as some energy and maintenance cost savings. However, little evidence exists that cleaning only the ducts will improve the efficiency of the system.

You may consider having your air ducts cleaned simply because it seems logical that air ducts will get dirty over time and should be occasionally cleaned. Provided that the cleaning is done properly, no evidence suggests that such cleaning would be detrimental. EPA does not recommend that the air ducts be cleaned routinely, but only as needed. EPA does, however, recommend that if you have a fuel burning furnace, stove or fireplace, they be inspected for proper functioning and serviced before each heating season to protect against carbon monoxide poisoning.

If you do decide to have your air ducts cleaned, take the same consumer precautions you normally would in assessing the service provider's competence and reliability.
---------------------------------------------------------

Clapham Tillers 24 Hrs emergency plumber in Broadway walk in shower installation , domestic gas engineer plumber in Cornwall Gardens, Queen's gate Plumber , gas heating commercial and domestic plumbing engineer Heron Quays cooker installer shower installer London E14 Isle of Dogs leaking pipe repair 24Hour Vauxhall SW8,SW11 Commercial Kitchen Extration System Maintenance,Installation Brompton Road SW1 Knightsbridge,Wansworth Kitchen extract systems

Family Run 24Hour Vauxhall SW8,SW11 Commercial Kitchen Extration System Maintenance,Installation Brompton Road SW1 Knightsbridge Ventilation Extract Repair Engineer London Southwest London SW1,SW2, SW3, SW4

kitchen extraction cleaning Knightsbridge,SW1 Buckingham Palace recommended boiler repair, Downing street carpentry work Pimlico decorating services SW1 commercial gas engineer, SW1 Piccadilly Circus , Horseferry Road Condensing combination boiler breakdown repair SW1 Green Park , heating and plumbing service SW1 Hyde Park Corner gas safe registered heating engineer, boiler service SW1 Pimlico gas heating plumbing engineer Brompton Road, SW1 Knightsbridge 24 Hrs reliable heating engineer SW1 Pimlico gas plumbing service Sloane Square ,Cylinder heath check SW1 St. James's Park family run plumber gas service ,Victoria SW1 Westminster Abbey commercial barbeque cooker maintenance , Westminster Under floor heating repair Brompton southwest London gas engineer , SW3 Brompton Road time out recommended plumber in SW3 Under floor heating specialist , Kensington & Chelsea, Blocked sink repair SW3 Chelsea Heating breakdown highgate, ,boiler breakdown plumber mechanism, plumber N1, Ariston boiler plumbers, recommended boiler installation Stansted airport plumber