"Reliable Family Run (Husband & Wife Formed)"
"Twice recommended by"Time Out" London in 2006"
"Finalist of the Training and Development Barking & Dagenham Business Awards 2008"
"Finalist of the "Best New Business" and " Entrepreneur of the year" Kingston Business Awards 2010"
"Finalist of the "Entrepreneur of the year" Kingston Business Awards 2011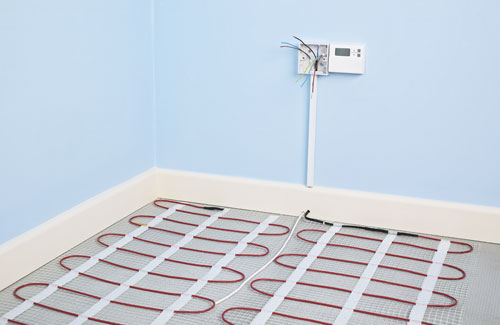 What is Underfloor Heating System?
Underfloor heating uses radiant heat ensuring that you feel comfortable even at a lower air temperature than that produced by a more conventional heating system. With underfloor heating all the floor is heated so no matter where you are in the room its all the same temperature. The heat rises and surrounds you and your furniture leaving you with warm feet and a cool head. A radiator rises to the ceiling and slowly works its way down leaving one side of the room where your radiator is hot and the opposite side cool, this also means you have a warm head and cold feet.
---------------------------------------------------------------
Under floor heating Leaks Repairs engineers - Recommended Underfoor Heating Specialist
The topic of leaks can be dealt with very quickly. If you can see where the leak is coming from then that is where it is coming from.
Basic Tips - How to repair / deal with underfloor heating leaks
In either case some excavation to a screeded floor will be required. If the floor is of a timber construction with underfloor heating, then the floor deck will need to be removed. No Heat from the Underfloor Heating System.

First of all start with the basics. Is there a hot water supply available? We have known cases where, on large properties, one boiler is supplying the underfloor heating while another supplies the domestic hot water.
Next, is there a demand for heating? Make sure that at least one thermostat is set above the current ambient temperature and that any timers or programmers are in an active mode. Depending on the control system used they may have been upset by a power cut and they may only be operating at night.Also check any fuses that are within your capabilities.
Circulating pumps for underfloor heating, or any heating system, can seize up if left unused all summer. Sometimes these can be freed by a sharp tap to the pump, or by removing an end cap on the pump and turning a slotted shaft. Once again we must stress that you should only do this if you feel competent to do so.Underfloor heating pumps are usually not of all summer, depending on the type of control system used, but we have known them seize in this way.If all else fails then you may need to look for an underfloor heating repair specialist, as many plumbers do not like working on underfloor heating system
------------------------------------------------------------
At Advanced Plumbing & Heating We always have registered gas safe engineers who are underfloor hearing specialist available all over london areas and surrounding all 24 hours a day 7 days a week throughout festive periods!
Underfloor Heating Manufacturers that we deal with :
http://www.warmup.co.uk WARM UP underfloor heating
http://www.heatmat.co.uk HEAT MAT underfloor heating
http://www.beama.org.uk/en/energy/underfloor-heating/
http://www.devi.co.uk/ DEVIREG undefloor heating
http://www.uponor.co.uk/ UPONOR underfloor heating
www.thermo-floor.co.uk - THERMO FLOOR underfloor heating
http://www.ebeco.com/en/index.php - EBECO underfloor heating
www.invisibleheating.co.uk - Invisible Heating Systems
http://www.florad.co.uk/ - FLORAD underfloor heating
www.floorheatingsystems.com
www.enerfoil.com - ENERFOIL underfloor heating
www.eco-hometec.co.uk - ECO HOME underfloor heating
www.allbriteuk.co.uk - ALLBRITE Underfloor heating
http://www.thermogroupuk.com/ - THERMO
http://www.nu-heat.co.uk - Nu Heat Underfloor Heating
http://www.speedfitufh.co.uk - Speedfit underfloor heating
John Guest Underfloor Heaitng

---------------------------------------------------------------------------------------
Reliable Repairs of John Guest Underfloor Heating Leaks North,Northwest,Central London nw6,nw7,nw8,nw9,nw10,nw11,ec1,ec2,ec3,ec4,wc1,wc2,n1,n2,n3,4,5,n6,n7 Underfloor Heating Leaks Repair Engineers repairs of John Guest underfloor heating leaks nw9, nw10, nw11, ec1, ec2, wc2, ec3, ec4
Mayfair Electric Boiler Repairs, W1 Electric Boiler Repairs, Marylebone Electric Boiler Repairs, W2 Electric Boiler Repairs, Soho Electric Boiler Repairs, W3 Electric Boiler Repairs, Bayswater Electric Boiler Repairs, W4 Electric Boiler Repairs, Paddington Electric Boiler Repairs, W5 Electric Boiler Repairs, Acton Electric Boiler Repairs , W6 Electric Boiler Repairs, Chiswick Electric Boiler Repairs, Repairs, London Conventional Boiler Repairs, England Conventional Boiler Repairs, Westminster Conventional Boiler Repairs, WC1 Conventional Boiler Repairs, Bloomsbury Conventional Boiler Repairs, Gray's Inn Conventional Boiler Repairs, WC2 Conventional Boiler Repairs, Covent Garden Conventional Boiler Repairs, Holborn Conventional Boiler Repairs, Strand Conventional Boiler Repairs, EC1 Conventional Boiler Repairs, Clerkenwell Conventional Boiler Repairs, Finsbury Conventional Boiler Repairs, Barbican Conventional Boiler Repairs, EC2 Conventional Boiler Repairs, Moorgate Conventional Boiler Repairs, Liverpool Street Conventional Boiler Repairs, wet underfloor heating, underfloor heating installer, underfloor heating companies, underfloor heating specialists, EC3 Billingsgate, Cannon-Street-EC3-Royal-Exchange-Lombard Street-City-of-London Fetter Lane EC4 , Finsbury, Finsbury Estate (west) ,St Luke's - Kings Cross-Drury-Lane-Aldwych-Covent-Garden-WC2-W2 WC1-Westminster-Leicester-Square-Charing-Cross-Somerset-House