"Reliable Family Run (Husband & Wife Formed)"
"Twice recommended by"Time Out" London in 2006"
"Finalist of the Training and Development Barking & Dagenham Business Awards 2008"
"Finalist of the "Best New Business" and " Entrepreneur of the year" Kingston Business Awards 2010"
"Finalist of the "Entrepreneur of the year" Kingston Business Awards 2011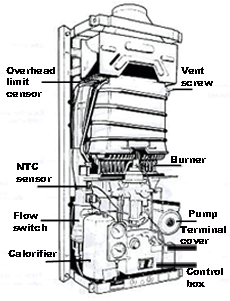 Advanced Professional Plumbing & Heating Services London is a family run business (husband and wife) formed who offers Multi-trades service.
We are a GAS SAFE (CORGI) registered, NICLEC certified and fully qualified multi-trade company in London. We have professional gas plumbers with 15 years experience as well as some other trade's specialists. We cover all areas of Central London (City London), East Central & West Central London, City of London and Westminster, West End London (West), Northwest London, East London, North London, Enfield, Southwest London, Southeast London, Bromley & Kent, Croydon, Richmond & Twickenham, Uxbridge, Essex and all surrounding areas

All these services are there for all customers who live in London and even some customer who are landlords, sub-contractors who live in overseas and all over the world! We have plumbers, gas heating engineers available in all areas of London and for all commercial & domestic customers
-------------------------------------------------------------------
How Combination Boiler Works - Emergency Boiler Repair,Breakdown Repair Engineers in London
The combination boiler description applies to an indirect combination boiler where the domestic hot water is heated in a secondary calorifier. See below for more about a direct combination boiler. Our projects section also contains lots of information about central heating of all kinds including oil fired.
Combination boilers combine the functions of a central heating boiler and an instantaneous multi point water heater. They give priority, in the main, to the supply of domestic hot water (dhw). The combination boiler has all its operating components contained within the casing and is typically designed for use within a sealed central heating system.
Installation is made easier by incorporating an expansion vessel, thus eliminating the need for a feed and expansion cistern in the roof space. Like an ordinary boiler it will have a gas fired burner and a heat exchanger. The waterways of both form part of the central heating system. In most of the early designs of combination boiler, hot water from the heat exchanger passes to a diverter valve, which directs the flow to a domestic hot water calorifier or central heating circuit. The calorifier is tightly packed with small copper tubes, through which secondary water flows the moment the hot water draw off is opened. As the water flows it picks up heat from the surrounding primary water in the calorifier. The central heating system is pressurised and needs a relief valve to protect against any build up of pressure in the system.
A pressure gauge on the appliance indicates the operating pressure. A by-pass, connected across the primary flow and return, ensures that an adequate flow of water is maintained. This by-pass may, or may not be a built in feature of the appliance.
The flue arrangements for combination boilers may be open, room sealed, fan assisted & room sealed, fan assisted open, miniature flue/condensing or se-duct. The primary heating circuit of combination boilers should be pre-commissioned, cleansed and treated with a corrosion protector in the same way as any other heating system. In hard water areas, the secondary domestic hot water should be treated with an in-line scale reducer or water softer (See projects section for info on both of these) This will prevent the build up of limescale on the instantaneous water heater and the accompanying reduction in flow rate and water outlet temperature.
With a direct combination boiler the secondary water is heated in one of two ways. The water may pass through pipes which run down the inside, or next to the primary pipes in the heat exchanger, or by passing through a separate heat exchanger which is bolted on top of the main heat exchanger. A direct combination boiler does not need a diverter valve or a secondary calorifier.
In a domestic hot water system where the (condensing) boiler is a replacement for an existing storage cylinder system or a conventional boiler, it is essential that all redundant pipework is removed to eliminate "dead legs" which can hold air and cause air locks. These can also cause cold spots and slow burner shut off.
------------------------------------------------------------------
NW7 Copthall, Mill Hill East , Gledhills boilermate installer NW7, NW8 (EPC) energy performance certificate Northwest London, Plumber Mill Hill NW7, Highwood Hill gas engineer plumber in London ,NW7 Abbey Road radiator hose repair, NW7 St.John's Wood fix radiator, CP12 certificates NW9 West Hendon, overflow pipe repair , radiator fitters , Power Flush trusted plumber NW9 bosch oven repair, solar panel efficiency The Hyde NW8, gas LPG boiler NW9 Kingsbury NW10 ,Gas heat pump , gas stove repairs , gas line repair, gas valve repair , thermocouple repair , gas appliance , gas thermocouple , gas fire repair , oven cleaning , stoves repair , corgi gas , gas boiler servicing , gas boiler spares , cheap gas boilers , gas central heating boilers , gas boiler replacement , service gas boiler gas engineer Colindale NW9, Edgware Road fitting central heating , installing gas fire NW9 , Solar hot water heating systems installer N1 Balls Pond Road , electrical rewiring 24hr Plumber Essex Road N1, Hoxton hot water repair Islington, gas safe registered plumber in Barnsbury, N1 Canonbury emergency boiler repair Islington